Humanists I Met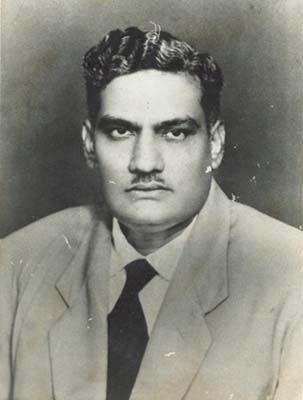 Avula Gopalakrishna Murthy
AGK
W
hat does America recognize him for?
This happened in the month of June, 1963. One day amongst a crowd of people in a well attended marriage, a very famous writer cum journalist from the US consulate office in Madras, Mr. B.S.R Krishna walked in. The marriage was solemnized between Jayasree and Rajagopal. People initially thought he had come to attend the marriage but he had taken a paper from his pocket and had given it to AGK. It was a letter of invitation from the US government to visit their country on an official tour. Every one of us was stunned by that invitation.
AGK neither served any ministerial positions nor did he receive any government awards and titles. He was not a politician or a celebrity in the field of cinema or sports. We never understood how the US Government had given him such an invitation; as it was a rarity those days. It is not an exaggeration to say that he was the first in AP to receive such an honor.
AGK had worked for the Tenali Municipal Corporation only once. By profession he was an advocate. He was born in a remote village called Mulpuru in 1917. Avula Sambasiva Rao who served as a High court Judge hailed from that place. He had done his MA LLB from Lucknow. He was married and had six children.
AGK had seen the nation before and after the Independence. He did not belong to any well-known political parties. He took part in the Radical Democratic Party by M N Rai in 1940. The party was later dissolved in 1948.
He met Netaji Subhash Chandra Bose when he was a student. When Bose lost as a leader for Congress in 1938, and nobody else bothered about him, he was the one who invited Bose to his hostel room and took care of him. After all our society believes in one who wins the race.
Well-known reformist, a revolutionist in literature, one who performed marriages in Telugu and advocated the equality of men and women, Mr. T .Rama Swamy was in Tenali when AGK met him.
He also developed intimacy with Chalam. He introduced both of them to M N Rai in 1940.
His friend circle denoted him as AGK with love.
He won the title as a great essayist cum speaker. He had written essays intensely from 1940. He started his own magazine but was unsuccessful. Radical, Radical Democrat, Sameeksha were different other magazines.
He was able to give lectures in both English and Telugu and also composed essays in both the languages with great ease.
His words are a special attraction. The speeches he made at the marriage ceremonies were very lovely. T Rama swami introduced taking oaths in Telugu and made suggestive lectures. Upcoming writers, artists and especially people belonging to backward classes were treated equally by him. He dealt with poetry and prose touchingly. From subtle criticism to slicing criticism was his speciality.
He was attracted to good poetry. Poems of Samuel Johnson, Machew Arnold, Stephen Spender, Audin in English and writings of Yetukuri Narasaih, Tripuraneni, Sripada Krishanmurthy, Pendyala Subrahmanyam, Jashua in Telugu were his all time favourites. He loved sports and participated in caroms and Badminton. He also encouraged others to participate in sports.
On the other hand he participated in Red Cross movement and other social movements enthusiastically and encouraged them with newer thoughts. Many painters including Goli Seshaih were assembled with him. Even number of poets like Kondaveeti  Venkata kavi,Venkata subbayya vasireddy (vadlamudi) often visited him. Writers and poets with destructive thoughts or negative thoughts were unpardoned and were dealt with accordingly. That list included from Nori Narasimha Sastry to Viswanadha Satyanarayana. He loved drama and encouraged it.
His friend circle included G V Krishna Rao, Palagummi Padmaraju, Bairagi, Gokulchand, Yelaparthi Rosaiah, Jasthi Jagannadham ,Gopichand.
People who had diversified thoughts in politics like Acharya Ranga, Daamodaram Sanjivayya, Aalapati Venkata Ramayya visited him often for free advices.
Some of the People who had to face the brunt of his criticism were Neelam Sanjiva Reddy, Alluri Satyanarayan raju, Kalluri Chandra Mouli, S B P Pattabhi Rama Rao, Mandali Venkata Krishna Rao. His speciality was to recognise people with talent though they were not in good posts. He identified the talent in Peddireddi Timmareddi as an admirer of farmer.
He had given innumerable training classes to youth.  They were also many who had the prefaces of their books written by him.
In 1960 he brought Annadurai to Tenali and conducted meetings on rationalism. M N Rai had visited Tenali many a times after that.
Can we denote AGK as a journalist? Yes/ no. He had written exhaustively and edited a number of small magazines. Thus he can be termed as a journalist. Panditaradhyula Nageswara Rao to Narla Venkateswara Rao were his journalist friends whom he looked upon for advices.
Great humanists including Abburi Rama Krishna Rao consulted him for advices. When AGK had written an article defaming Gandhi, his co-humanist Abburi was taken a back and complained it to M N Rai. The summary was in English. But contrary to Abburi's expectations, Rai supported AGK.
When AGK criticized Jawaharlal Nehru on his ways during his tour to America, the then ambassador B K Nehru threatened him that he will send him back to India. But AGK did Bother and made it clear that he would not stop criticism..
When AGK was planning his return to India, rumors were heaped upon him. He was asked to praise Vivekananda for which he denied saying he would speak the truth as he knew. So, things were turned against him and he was blamed of criticizing Vivekananda and defaming him. The editor of Andhra Prabha magazine Mr.Neelam Raju Venkata Seshayya defamed him in his magazine for which he lashed back at him.
However, Vivekananda's topic did not come up in America.  AGK was elected by the Fresno Municipality in the state of California. That was a rare honor. He used to gel with children whenever he went to schools in America. He lived for some time with Vadlamudi Sri Krishna in Chicago.
All this happened in 1963.He had spoken about his experiences from the stage and wrote many books.  There was an internal talk that the Americans have never seen such a multi talented person during their visit. Such great personality passed away in 1967 when he was 50 years old.
His article on "The World around me" published in the Vahini magazine revealed his universal vision.