Innaiah Narisetti Ph.D.
ATA Siromani Award(USA), 1992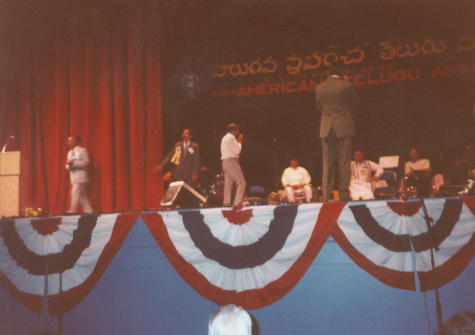 Innaiah receiving Siromani Award in America Telugu Association fourth Convention held at New York, 1992. P.Ramachandra Reddi, Minister for Industries, Andhra Pradesh Government gave the Award.
TANA Humanist-Journalist Award (USA), 1997
TANA award was given away by Akkineni NageswaraRao, cine actor chief guest in Telugu Association of North America held in Los Angeles in 1997 .I gave acceptance speech in the convention.
Visit TANA archives for my Articles in TANA Patrika, USA: www.tana.org
Greater Washington Telugu Association, 1999
Delaware Valley Telugu Association, 1998
New York Telugu Association, 1998
Participation in Humanist and Rationalist activities
in USA 1992-2000