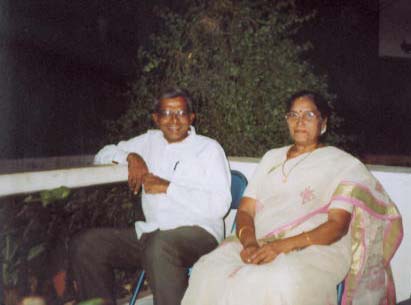 Wife Komala Venigalla retired from Ambedkar Open University,Hyderabad,India in 1995 as assistant professor of English.Written on Modern Women covering various aspects of their lives in contemporary world.Traslated M.N.Roy's Memoirs of Cat into Telugu. Contributed articles to Misimi Telugu monthly.Toured USA.
The marriage of Innaiah-Komala was celebrated in a secular humanist way at Tenali(Andhra Pradesh India) on 31 may 1964. It was presided over by Justice Avula Sambasivarao(chief justice of Andhra Pradesh High court).
Mr.Avula Gopala Krishna Murthy(AGK) officiated the wedding with exchange of rings and garlands.He gave a speech indicating the importance of secular aspect of the marriages.
Several Humanists, Rationalists, Atheists and family members presented in the wedding.